Scholarship Recipients
To date (which includes the class of 2019 graduates) we have awarded over $181,500 in scholarships to 146 graduating seniors since 1984 thanks to the generosity of our membership. Scholarships are awarded by the Eden Alumni Scholarship Committee to applicants that are of exemplary character and motivation, displaying an impact on his or her peers and the community. No special emphasis is placed on any one factor of the student's application. The Association encourages any graduating senior to apply.
We presented five $2,000 scholarships to (4) year college applicants to the following Class of 2018 Recipients:
Hailey Brenner
Andrew Hess
Nicole Mroz
Rebecca Navel
Morgan Vullo
2017 Scholarship Recipients
Brian Asboth
Bridget Bender
Casey Bennett
Collin Fest
Brittany Goodrich
Marissa Kordal
2016 Scholarship Recipients
Alexander Bianchi
Brittney Gawel
Leila Richmond
Anna Wightman
Benjamin Asboth
Kaitlyn O'Connell
2015 Scholarship Recipients
Lauren Gugino
Brianna Tutuska
Ashley Wertz
Rhyse Strawbrich
2014 Scholarship Recipients
Adam Brawdy
Karlie Bley
Carl Lograsso
Cristina Torres
2013 Scholarship Recipients
William Asboth
Cassidy Genco
Lindsay Robinson
Carrie Herzog
2012 Scholarship Recipients
Zachary Adam Kordal
Richard Davis Krouse
Jenna Lee Phillips
Kendall Pierce
Laura Robinson
Charles A. Schmitz III
2011 Scholarship Recipients
Jacob Braunscheidel
David Grapes, Jr.
Danielle Lyndsley
Joshua Mack
Derek Palmerton
William Rogers, Jr.
2010 Scholarship Recipients
Julian Bermingham
Morgan Irene Cole
Andrew Paul Greiner
Andrea Schneider
Jacob Madison Williams
2009 Scholarship Recipients
Zachariah Patrick Braunscheidel
Jessica Rianne Dosser
James Levulis
Chelsey Ray
Carolyn Frances Schupp
2008 Scholarship Recipients
Virginia Patridge
Samantha DeMarco
John Malayny
Lauren Dingman
2007 Scholarship Recipients
Reni Roseman
Jacob Steffen
Ryan Duffy
Rachael Sarcione
2006 Scholarship Recipients
Timothy A. Rood
Lauren C. Krazmien
Elizabeth M. Hock
Alyssa Newland
Amy L. Hewson
Amanda Paciorek
2005 Scholarship Recipients
Kimberly Herman
Nicola Fatta
Alissa Fleming
Scott Wojtanik
Catherine Jones
Matthew Haier
2004 Scholarship Recipients
Ashley Engle
Mark Schichtel
Andrea Gaul
Ryan Bischof
Amanda Skinner
Isabel Groff
2003 Scholarship Recipients
Ashley Longbine
Edward Bugenhagen
Kasey Barrett
Leah Falkowski
Megan Collins
Brianna Harris
Alissa Price
2002 Scholarship Recipients
Emily M. Engle
Courtney Damstetter
Sarah Schummer
Brent Liebler
Stephanie Zopp
2001 Scholarship Recipients
Sarah Brawdey
Katie Eye
Leah Hazard
Christine Weber
2000 Scholarship Recipients
Christine Sercu
Daniel Kaczmarek
Julie Smolinski
Jessica Pyjas
1999 Scholarship Recipients
Renee' (Sturm) Nowicki
Kara M. (Fitzgerald) Burakowski
David Kappus
Nathan Schmitt
1998 Scholarship Recipients
Erik Rose
Laura Carlson
Greg Bucki
Deanne Pericak
Natalie Rauch
1997 Scholarship Recipients
Kevin Eye
Karie Colantino
Stephen Ford
Kim Scheetz
1996 Scholarship Recipients
Jeremy Rust
Adam Renzi
Kelly McCall
Lori Francz
1995 Scholarship Recipients
David Kelsey
Colleen Klein
Kevin Mills
1994 Scholarship Recipients
Joanne Mammoser
Paul Reilly
1993 Scholarship Recipients
Eric Sturm
Tracie Rubeck
1992 Scholarship Recipients
Timothy Calabrese
Jennifer Neifer
1991 Scholarship Recipients
Eric Cooper
Tami (Greible) Duggan
1990 Scholarship Recipients
Heather Ridge
Robert Kerr
1989 Scholarship Recipients
Kristie (Harms) Krawczyk
Joe Maloney
1988 Scholarship Recipients
Jennifer (Bernacki) Smith
Steven Smith
1987 Scholarship Recipients
Colleen Flanigan
William Rusin
1986 Scholarship Recipients
Debra Wilczewski
James Bolton
1985 Scholarship Recipients
Cheryl Lichtenthal
Carl Pfarner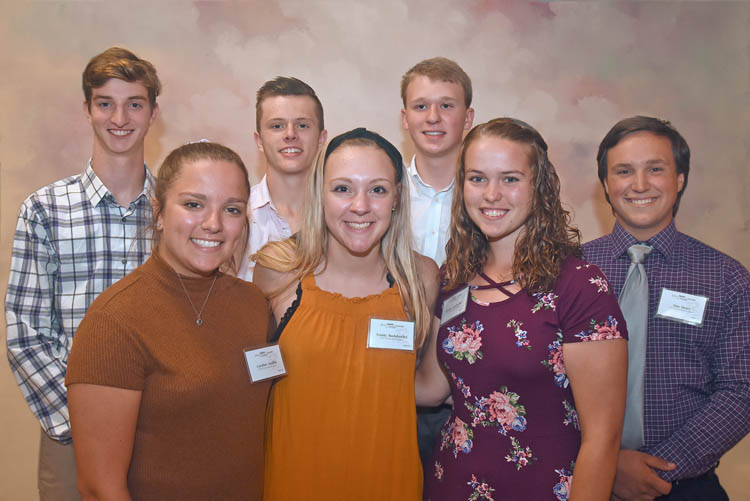 2019 Eden Alumni Association Scholarship Recipients